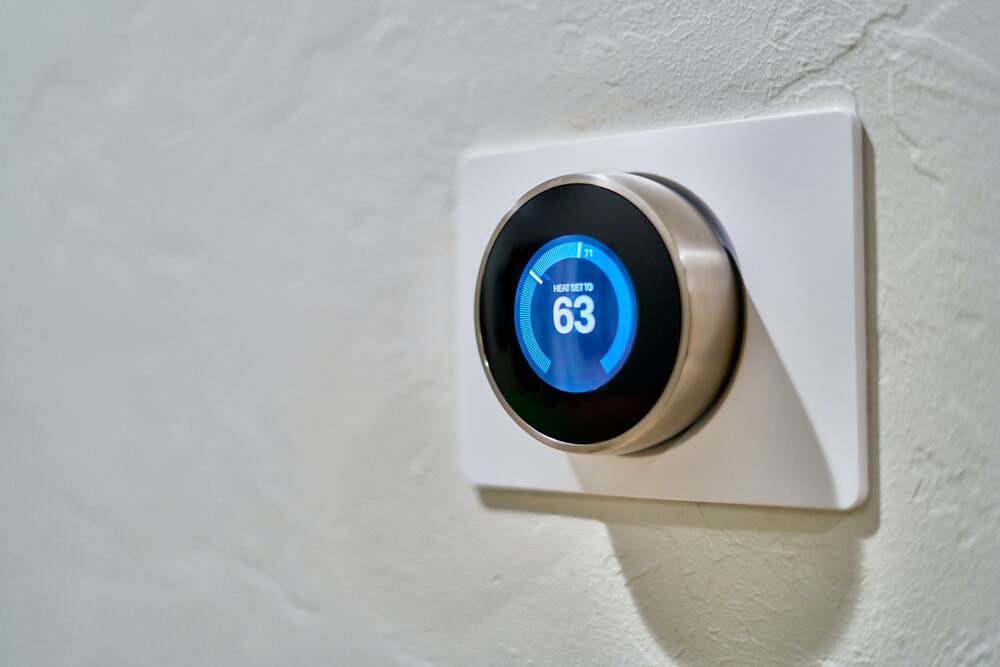 There are plenty of benefits to upgrading your Crestwood rental property with smart home technology. For starters, you'll be making your space more marketable to potential tenants who are always looking for updated amenities. But some of the tech upgrades can also translate to cost savings, especially over time. Here are a few smart home products worth considering for your Crestwood rental property so you can start reaping the benefits immediately.
1. Smart Thermostats for Energy Efficient Heating & Cooling
One of the most costly and significant monthly expenses in any home is the bill for heating and cooling. Smart thermostats, available in a variety of brands and functions, can be great tools for controlling those costs and improving energy efficiency.
Here are a few benefits you and your Crestwood tenants will enjoy with a smart thermostat:
Control Temps Remotely: Both you and your renters will be able to adjust or regulate the temperature of the space digitally and remotely with a smartphone or tablet. Renters can run the HVAC equipment less when they're away for work or vacation. You can run it less during those times your rental property is vacant, between tenants.
Monitoring Energy Use: Many varieties of digital thermostats offer an energy usage tracker, which is helpful both to you and your tenants to gauge waste versus savings efforts and costs. Renters can see what goes into the monthly utility bill. You can keep track of any overuse.
It's an Easy DIY Upgrade: If your Crestwood rental property already has the wiring for a thermostat, upgrading to a digital version is incredibly easy. Even if you hire a professional to handle the install, it can still only set you back between $200-$500, a cost you can easily recoup in a few months of energy savings.
2. Smart Locks for Digital Security
If you haven't already upgraded your rental property with smart locks, put it on the top of your to-do list. Safety and security are typically a top priority for both you and your renters. But there are so many other layers of convenience and efficiency with smart locks.
Here are just a few of the smart lock advantages you'll love:
Lock Outs Are a Breeze: Never have to deal with a midnight lockout call and a trip to the property. Having smart locks means anyone with access can digitally unlock the door. This benefit alone could make the installation worth the investment.
Changing Access Digitally: Once your Crestwood tenant moves out, you can digitally reset the lock without having to worry about traditional key management replacement. It's equally helpful for those property owners who don't live near their properties.
Track Who Comes and Goes: Some smart lock devices allow for additional management of usage. This means you can keep track of contractors, inspectors, realtors, or potential tenants who access the property. Depending on the smart lock device you choose, installation costs are still rather affordable, too, usually less than $500.
3. Smart Lighting Both Inside and Out
One smart home upgrade that will increase energy efficiency, reduce costs, and improve safety all at once is intelligent lighting systems. These can be everything from interior smart bulbs that work with a home automation device to exterior digital sensors for lighting to improve visibility. Another great aspect of smart lighting is that you can make small upgrades at a time and within your budget if you aren't ready to do a whole-home system replacement just yet. Expect to pay anywhere from $20 for one smart bulb to $800 for a whole system upgrade.
Here are the best benefits of intelligent lighting in your Crestwood rental property:
Increased Cost-Savings: The monthly utility bills won't be as big if it's easier to turn off unused lighting remotely or with a smartphone. Dimmer features are great, too, since landlords won't have to install actual dimmer switches, and tenants can control it all digitally.
Increased Safety Lighting: Light up the sidewalk or dark corners of the yard to deter criminals or even just prevent trip and fall hazards. Some intelligent lighting features include GPS activation, too, meaning when the tenants are almost arriving home, the lights will turn on automatically.
Motion Sensor Tech: Some digital lighting systems include motion sensor technology, so no one ever has to turn lights on or off again. Lighting automatically comes on when someone triggers the sensor, allowing for well-lit areas anywhere someone is present.
Consider some of these smart home tech upgrades for your Crestwood rental property and start taking advantage of the key benefits. For more ideas on improving your ROI, let PMI Louisville help!